Emma tenta ajudar um casal de irmãos desabrigados, a encontrar seu pai biológico. Por ter passado pelo sistema de assistência social, e ainda se sentir traumatizada por isso, Emma fará de tudo para que o mesmo não ocorra com os irmãos. Enquanto isso,no Mundo de Conto de Fadas, a Rainha Má obriga João e Maria a roubar um artefato mágico da Bruxa Cega (True North).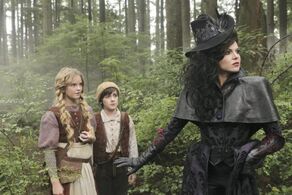 Ad blocker interference detected!
Wikia is a free-to-use site that makes money from advertising. We have a modified experience for viewers using ad blockers

Wikia is not accessible if you've made further modifications. Remove the custom ad blocker rule(s) and the page will load as expected.